Water Fitness Workout Secrets
You'll Need:
Water Fitness Gloves (of the highest quality) in Your Size to
give you the Water Resistance Required to Tone Muscle
$35.00
Water Fitness Shirts with 50+ Sun Proof Protection to Prevent
Wrinkles and Sun Damage plus Keep you Warm in the Water!
$59.00
Water Fitness Hats that Resist Water and are Lightweight,
Cool and Comfortable for any Outdoor Activity!
$16.00
WaterProof Instruction Card that shows you exactly How To Do Each Exercise Correctly,
What Muscles are being Toned and How Many Times to Do It.
$12.00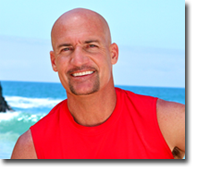 My name is David Wicker and my water fitness program is so effective at losing weight and developing sleek muscles that it's hands down better than any aqua aerobics, water aerobics, pool exercise, or water fitness class available anywhere in the world for weight loss and muscle tone!
The aqua aerobics exercises I have developed are based on years of personal training exercises that have already successfully toned muscle for thousands of White Tiger Wellness students. These aqua exercise moves will tone every single muscle of your entire body just by using the resistance of water. These unique pool exercises are clearly displayed on this waterproof water fitness instruction card that you can literally bring into the the pool with you. It shows you exactly how to do the water fitness exercises correctly, how many water aerobics reps to do and the correct order of the water fitness workout.
Only by doing these water exercises while using my custom designed aqua aerobics gloves (water fitness gloves) also know as water fitness mitts will you be able to generate the perfect amount of water resistance necessary to tone your muscles in the pool. Because you cannot tone muscle without these pool fitness gloves they are thought of as the "weights" in the world of water fitness exercise. But in reality the resistance needed for muscle tone is provided by their webbed design and not by an actual "weight" inside of them.
Because many water fitness locations take place outdoors under the sun or in cool water I have also created Water Aerobics Shirts (called Rash Guards by Surfers in Hawaii) to block the UVA and UVB rays of the sun that will damage your skin. These water aerobics tops will keep you warm in the water and will protect your skin during aqua aerobic exercise, and they look great.
And when it comes to protecting your skin during deep water aerobics the most important body part we need to keep out of the sun is our face. So that's why I created these Water Fitness Hats that can also be used for golf, tennis, travel, gardening, biking or anywhere. These hats can get wet and then dry in seconds. They also keep your head cool from the light moisture wicking fabric and breathe holes made of mesh. Good in the sun and good in the rain. Perfect for water exercise.
If you want to get into water exercise for the first time or are just looking for better results from your current aqua exercise routine then get outfitted now with these products and get started. Water Aerobics is easy on the joints of your ankle, knees, back and hips and is great for physical therapy and general exercise. All these products are custom made of the highest quality materials and have helped thousands of people get the results they seek.
David Wicker is a Certified Muscle Toning Specialist and you will tone every muscle in your entire body by doing the correct exercises, in the correct (safe) form, for the correct amount of time! This is 100% Guaranteed to Work for You.
Money Back Guarantee!

David Wicker is a licensed and certified personal trainer. He's been endorsed by doctors, surgeons, therapists, and sports trainers. David has instructed over a quarter million students and created Wellness Centers for resorts across Hawaii, California and Arizona. He is the founder of White Tiger Yoga and producer of the best selling White Tiger Wellness DVDs.