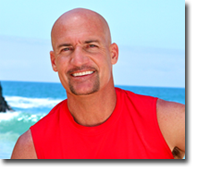 I personally Guarantee that my DVD, Healthy Shoulder and Rotator Cuff Secrets will put an End to your Shoulder Pain Once and for All or your Money Back!

My name is David Wicker, the founder of White Tiger Wellness and this is the story of how I suffered from a rotator cuff injury and how I was able to rehab my rotator cuff and end my shoulder joint pain once and for all.

"I Fixed my Rotator Cuff by doing this..."
I've always been an active guy and little did I know that doing activities I loved were actually causing my shoulder problem. I had no idea that tennis, weight-lifting sessions, guitar playing, yoga, swimming, surfing, and even just working on my computer were creating a condition in my shoulder socket called shoulder bursitis, shoulder tendonitis or impingement syndrome. My shoulder hurt when I tried to do push ups or raise my arm over my head or bring my arm behind my back.
I figured the pain would just go away like so many other random aches and pains. But my shoulder "pinch" just got worse! Some days I'd even get a sharp pain just combing my hair or looking at my watch. Even sleeping on my side would make my shoulder ache.

But then I met a professional body builder who claimed that she could fix my shoulder problem in a couple of days. She told me about rotator cuff therapy and laughed at me because I kept calling it the rotator cup, rotary cup or the rotary cuff. Of course I didn't believe she could fix my chronic shoulder pain in a couple days because I had already tried "everything" and I was even then a well respected fitness expert. But finally I gave it a try. Well guess what? She was right and I was wrong. My shoulder pain was gone in about 3 days. Suddenly I could bench press all the way down, I could serve in tennis, I could sleep on my side and play guitar all night long.
The real David Wicker was back! It was so simple. I have never in my life been so amazed by a such speedy transformation - it was like laser eye surgery for my shoulder!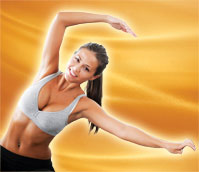 That was 15 years ago and I am still good as new if I spend a few minutes doing these shoulder exercises. Since then I have perfected and expanded these shoulder rehab techniques to help not only shoulder bursitis, shoulder tendonitis, and impingement syndrome but other shoulder conditions such as shoulder spurs, shoulder calcium deposits and even rotator cuff tears. There is even a section on this DVD that shows how to release the tight muscles between the shoulder blades that run all the up to the base of the neck!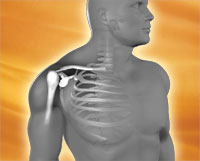 I then began to teach this as a class at the resorts where I was teaching White Tiger Yoga and I had no idea just how many people were suffering from shoulder pain just like me. So I put this information on DVD and sold thousands of copies. But after working with tens of thousands of people with shoulder pain I discovered even better and faster techniques for fixing bad shoulders and have just now created the most extensive and effective DVD for shoulder therapy in the world that will fix your shoulder problem or your money back!
Simple exercises to relieve pain in the shoulder joint from shoulder bursitis, shoulder tendonitis, impingement syndrome, rotator cuff tears, shoulder spurs, etc. Rehab exercises beyond physical therapy to fix, help, stop, and end shoulder pain in just minutes a day. The DVD, Healthy Shoulder and Rotator Cuff Secrets by White Tiger Wellness Guru David Wicker reveals 30 Minutes of the absolute clearest and easy to follow exercises to achieve and maintaining a happy and healthy shoulder joint for golf, tennis, weight lifting, swimming, baseball, football and daily life. Specifically made to be used with its companion DVD; Healthy Lower Back Secrets. Money Back Guarantee.


*I also noticed that most people with rotator cuff issues are also suffering from Lower Back Pain so I created a separate companion DVD for the lower back, called Healthy Lower Back Secrets which I recommend that you purchase in addition to Healthy Shoulder and Rotator Cuff Secrets. Click here to preview.

David Wicker is a licensed and certified personal trainer. He's been endorsed by doctors, surgeons, therapists, and sports trainers. David has instructed over a quarter million students and created Wellness Centers for resorts across Hawaii, California and Arizona. He is the founder of White Tiger Yoga and producer of the best selling White Tiger Wellness DVDs.
David Wicker's Healthy Shoulder and Rotator Cuff DVD exercises will help your shoulder heal correctly so you can avoid shoulder surgery. If rotator cuff surgery is still necessary then these rotator cuff rehabilitation exercises will greatly help your shoulder heal successfully following your shoulder operation.
You can avoid any chance of rotator cuff surgery complications by fixing your rotator cuff pain without doctors or rotator cuff surgery. Shoulder joint pain relief from impingement syndrome, shoulder tendonitis, shoulder bursitis and even some rotator cuff tear symptoms can be attained through correct rotator cuff therapy exercises. Rotator cuff therapy, involves proper rotator cuff treatment which includes rotator cuff exercises also referred to as rotator cuff rehab exercise. Such shoulder pain relief exercises can improve or eliminate most rotator cuff injury symptoms.
However, If rotator cuff stretches and rotator cuff strengthening exercises do not improve the rotator cuff discomfort then a rotator cuff operation may still be necessary. A severe rotator cuff tear or severe rotator cuff diagnosis will require surgery followed by post op rehab exercises for a proper rotator cuff shoulder recovery.
Additional DVDs of Interest: